HAPPY NEW YEAR EVERYONE!!! I hope all of you had a great start to 2011. It was a bit nerve wrecking for us here. I hate fireworks!!! They send me in to PANIC MODE!!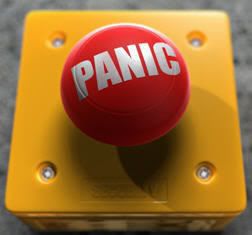 yeah...I freak out. Before you ask why? Well, when I was around 10 I had some mischievous cousins. They would throw fireworks up in the air. Well one of them caught the wind and landed inside my shirt...on my back! YEAH!!! I had a black spot on my back for a week..thankfully I didn't get burned..it was some kind of residue. On the bad side...I'm even more NEUROTIC cause of that. LOL. All in all it was a good day. My dad had arrived safely home from Oregon. My cousin Jamie and his wife Deyi also came down to visit us for the New Year. It was so much fun. When we have guests...my family and I really pull out all the stops for great meals. My dad made his homemade barbacoa. I didn't get to have it because that same day, I made LUNCH. I cooked 3 birds (chicken) and boy that wasn't enough!!! There were so many people at my home we had to get PIZZA!
Well during all that commotion..the girls started to fight over the computer. The same computer my embroidery machine is attached to. One shoved the other and she bumped into the machine and DOWN IT GOES! OMG I wanted to cry right there. I didn't cause of all the people that were there, once they left...it was TEAR CITY!!! Marty was upset that I was upset so he broke out his tools and he FIXED MY MACHINE!!! OMG I'm so happy to have him. No other guy would have done that. I still worry, but so far so good. I don't want to jinx it.
So here I'm feeling like the new year has started off on the wrong foot, my knight on his white horse come riding in and fixes it all. So maybe, just MAYBE...this year actually started of on the RIGHT foot. I hope all of you had a very happy new year. Next week we head off to Dallas, Tx for NCA competition.
My resolutions for this new year? Well I resolve to be more patient, to get moving and not take my family and friend for granted. Life is too short, as you all know. 3 family members now have passed since November 28, two of them all of a sudden. Also for the first time...I will also resolve to set a number of how many sales I want to accomplish this year. 500...500 sales.
So HAPPY NEW YEAR everyone! This year is gonna be one wild ride!!!!